About

Deanna DeRusso MD
Full Internal Medicine
Full Dermatological Care
Primary Care for the Family
Vanderbilt and Georgetown Alumna

About Deanna DeRusso M.D.:
Professionally…
Dr. Deanna DeRusso is an Internal Medicine physician specializing in adult and adolescent medicine with special focus and training on the prevention and treatment of complex diseases.
As a physician of Internal Medicine (or Internist), she is specifically trained in the prevention, diagnosis and treatment of diseases, and often called upon as a consultant to other physicians to help solve difficult or puzzling illnesses.
As an Internist, she is equipped to deal with simple as well as highly complex medical problems. She handles situations where several different and complicated illnesses may present concurrently. She also heavily focuses on wellness, that is, disease prevention and the promotion of general health as this applies to mental health, women's health, men's health, dermatological health, as well as the diagnosis and treatment of numerous problems associated with most every organ system of the body.
Caring for the whole patient for life is the goal. Dr. DeRusso provides complete primary care to the total patient.
Personally…
Dr. DeRusso graduated Magna Cum Laude from Vanderbilt University after achieving Valedictorian of her high school class in Iowa, where she grew up. Following her medical school studies at Drexel University in Philadelphia, she did her internship and Internal Medicine residency at Georgetown University Hospital Center, during which time she under went intensive training in Dermatology at a number of institutions to include Walter Reed Hospital and AFIP, the University of Florida Shands Hospital, and John Hopkins University Hospital.
Dr. DeRusso has over a decade of experience in the practice of medicine. Her first three years were spent in a large Internal Medicine practice in Vienna, Va. She subsequently moved to Leesburg where she resides in the community which she serves.
Dr. DeRusso continues a family tradition in medicine. Her father is a retired cardiovascular surgeon and her brother currently practices Internal Medicine in Philadelphia. She is the mother of two boys. She is an avid gardener and maintains an active lifestyle which includes running and fitness training.

Call (703) 771-7377 for an Appointment.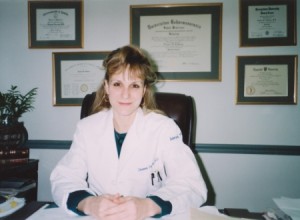 Our Loyalties are to the Patient…
Not an Insurance Company.
Heritage Internal Medicine – Deanna DeRusso M.D.
116-A Edwards Ferry Rd Leesburg, Va 20176
(703) 771-7377

---